Fabrics
Allsportswear
has over 10 years of experience in producing sports wear. Based on customer feedback over the years and the different purposes of the uniforms, we offer a variety of fabrics for you to choose from.
Standard
This is a conventional fabric that is often used in sportswear.
It has a strong matte impression without any gloss, but offers excellent breathability and maintains optimal stretchiness for sports.
Material: 100% Polyester
Weight: Mesh: 150g/㎡
| | |
| --- | --- |
| Durability | |
| Light | |
| Permeability | |
| Elasticity | |
| Appearance | |
| Dry-fit | |
Ultra Freeze
Using F-ICE cool feeling material technology, this fabric has a double honeycomb structure that quickly wicks away sweat.

It is designed to be non-sticky against the skin and is highly resistant to abrasion, less prone to snagging, and suitable for intense sports.

Material: 100% polyester.
Weight: Mesh: 140g/㎡
| | |
| --- | --- |
| Durability | |
| Light | |
| Permeability | |
| Elasticity | |
| Appearance | |
| Dry-fit | |
DNA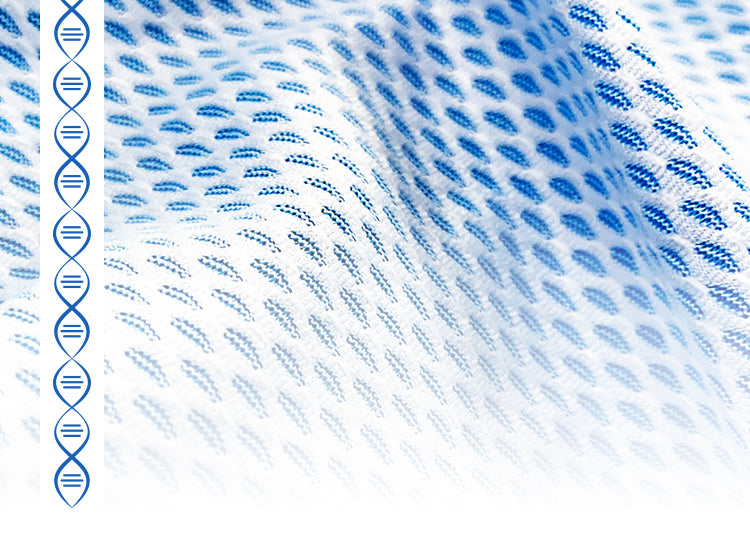 The fabric is manufactured using innovative double-helix biomimetic energy-absorbing mesh material.

The inner side of the fabric is woven in a double-helix structure inspired by DNA, forming a unique three-dimensional construction with a soft and skin-friendly texture. The elliptical regions at the center of each helix are thin and breathable, enhancing sweat-wicking properties. The outer side of the fabric is smooth and refined, offering a silky touch and a luxurious feel.

The fabric contains a high percentage of spandex, providing excellent elasticity. This elasticity reduces movement constraints and offers support and protection to core muscle groups during athletic activities.

Material: 90% polyester, 10% spandex.
Weight: Mesh: 150g/㎡
| | |
| --- | --- |
| Durability | |
| Light | |
| Permeability | |
| Elasticity | |
| Appearance | |
| Dry-fit | |
Honey Super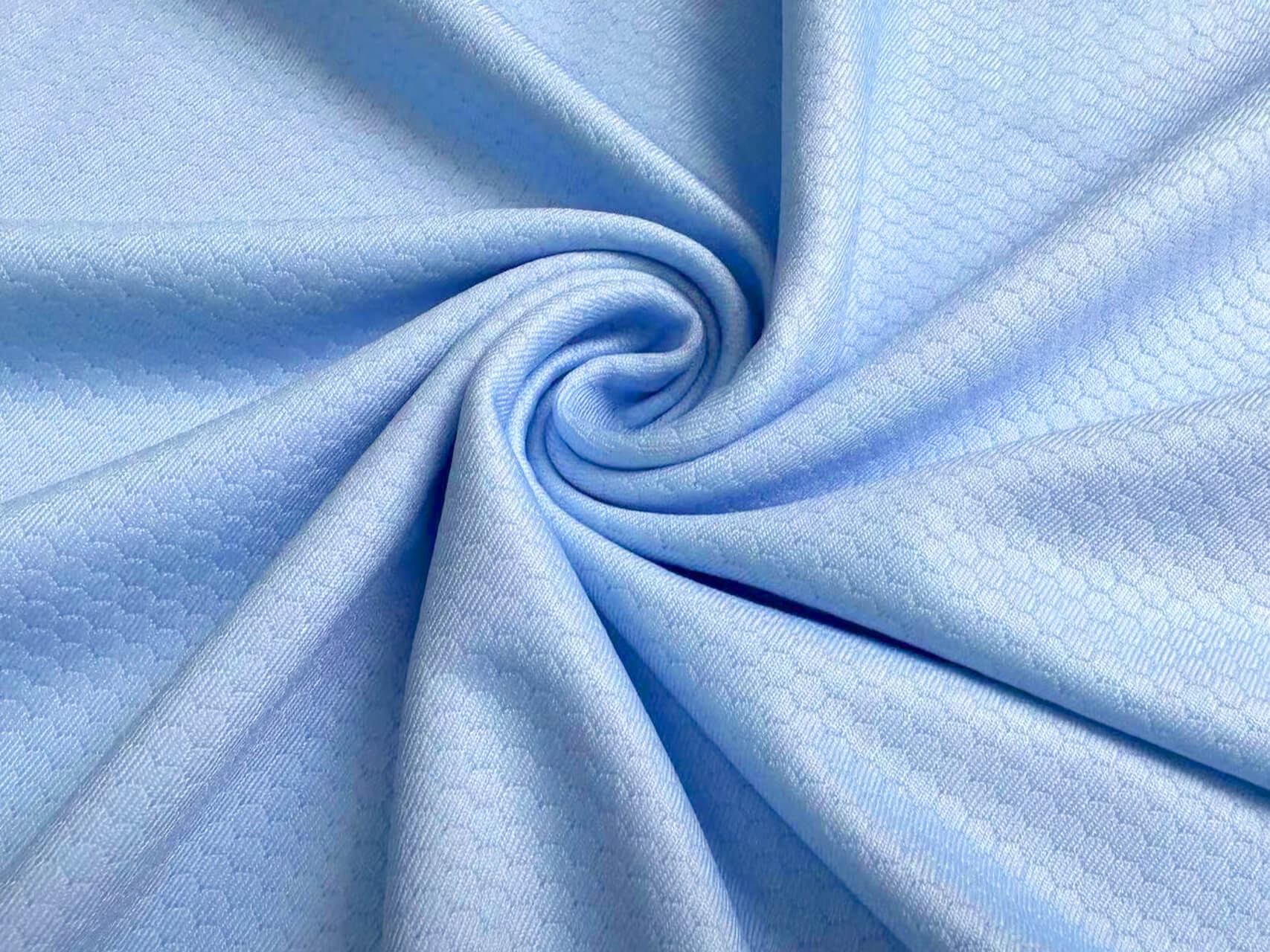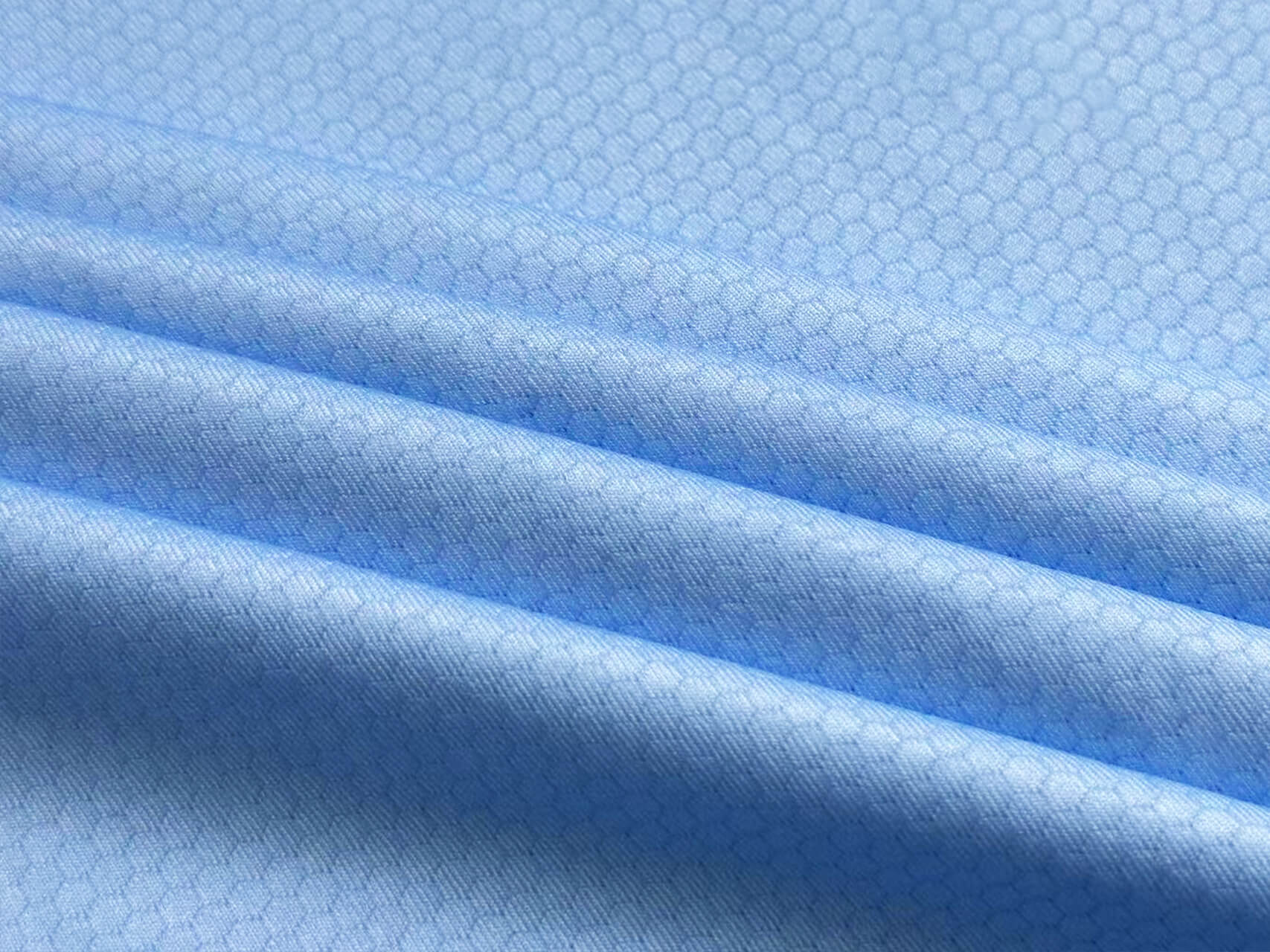 The fabric utilizes a special honeycomb weaving technique, greatly enhancing breathability with its hexagonal texture.

The fabric is both structurally robust and soft, boasting a delicate and smooth texture, along with excellent sheen.

The outer side of the fabric is exceptionally smooth, and digitally printed patterns exhibit a heightened refinement and clarity.

The fabric contains a high percentage of spandex, providing outstanding elasticity. This elasticity reduces movement constraints and offers support and protection to core muscle groups during athletic activities.

Material: 90% polyester, 10% spandex.
Weight: Mesh: 170g/㎡
| | |
| --- | --- |
| Durability | |
| Light | |
| Permeability | |
| Elasticity | |
| Appearance | |
| Dry-fit | |
Performa
We use a super lightweight large mesh jacquard fabric with F-KNIT jacquard knitting technology. 
It has excellent breathability and moisture-wicking properties, making it suitable for even the most intense athletic competitions.

The fabric is easy to maintain and resistant to deformation, and mesh is incorporated in various locations to enhance the athlete's sports performance on the field while maintaining its appearance.

Material: 100% polyester
Weight: Mesh: 180g/㎡
| | |
| --- | --- |
| Durability | |
| Light | |
| Permeability | |
| Elasticity | |
| Appearance | |
| Dry-fit | |